What is AKARI?
Trust of customers for over 90 years
AKARI is a long-established Kimono store. A wide range of products, from casual items to luxury goods, are available for both Kimono lovers and young people. Please feel free to drop by♪
Rental Yukata has different types of patterns with a low price, you really don't know how to choose! Other Kimono brands such as "Kaga Yuzen", "Chikusen" and "Bushoan" are also available.
Which plan would you choose?
Get dressed in Kimono and go sightseeing to Kanazawa!
Enjoy Kanazawa travel style with our Kimono rental service.
25 Kimono pick and select by staff.

This is a plan for those who want to experience Kimono dress-up at a rea- sonable price. Just like coordinating your daily clothes, enjoy our Kimono rental in Kanazawa.

Why not get dressed in a high-quality Kimono on a special day or while sight- seeing? A wide range of high-end Kimonos, color- ful Obi and accessories are available.

Why not experience Kimono dress-up in your trip or date? The time you two spend in walking around the Kanazawa City, is sure to be pleasant and unforgettable memories.
Three courses for you to enjoy Kanazawa more than ever
Great starting point for traveling in Kanazawa,
"Kanazawa's kitchen"Omicho Market
AKARI is located in a convenient location with easy access to various sightseeing spots, such as Nagamachi Samurai Residence, Higashi Chaya District and the 21st Century Museum of Contemporary Art. It's just a 15-minute walk from Kanazawa Castle and a 10-minute drive from Kenrokuen Garden!
AKARI's recommended tourist attractions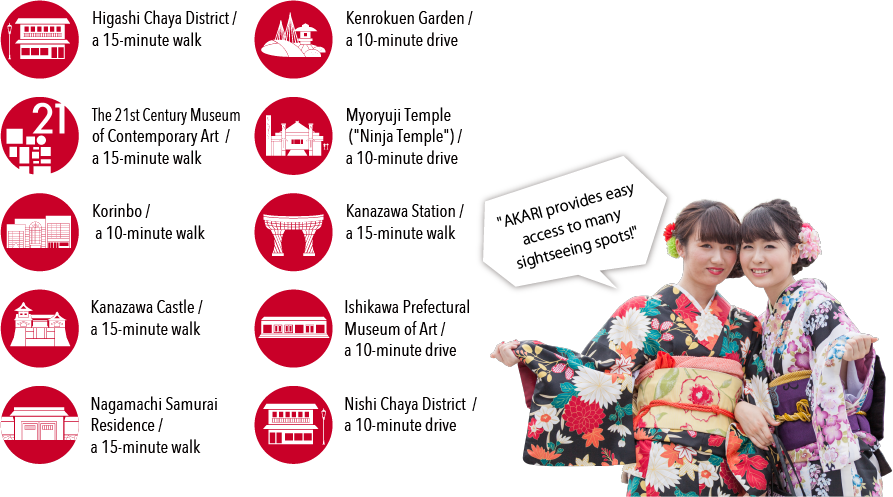 Let's share your memories on instagram!
Rental Process
7 steps to Kimono rental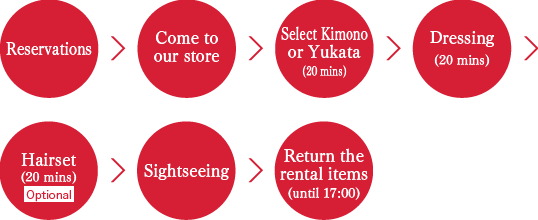 Kanazawa is now gaining considerable attention in Japan!
Since the opening of the Hokuriku Shinkansen, "Town where Kimono matches" Kanazawa has been gaining attention as a new sightseeing spot! Especially Omicho Market where "AKARI" is located, always fills up with local people and tourists. Why not enjoy the local cuisine that draw from the land and sea with a Kimono dress-up? We would be grateful if you could have a wonderful trip with good memories at AKARI.
Private Rickshaw Tours
List of courses and Price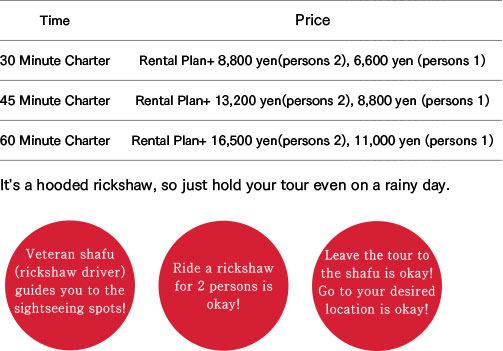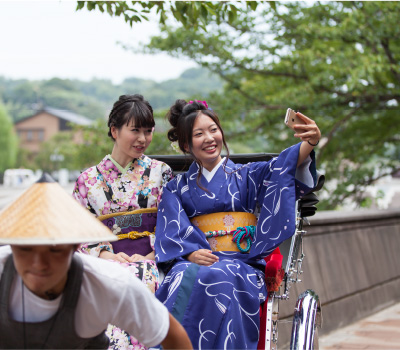 Chartered Taxi Tours
Standard Course for those who are the first visit to Kanazawa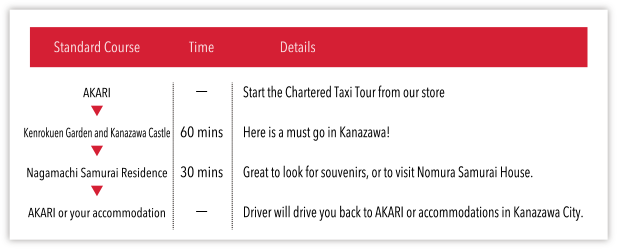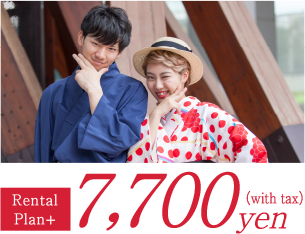 Recommended Course for those who are interested in contemporary art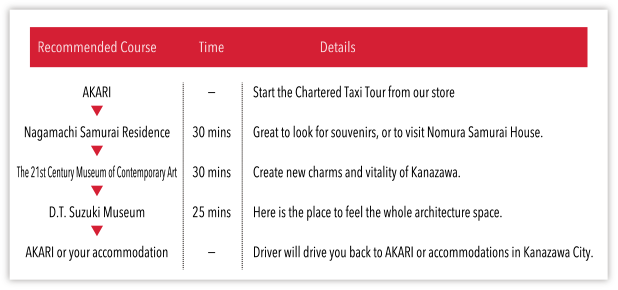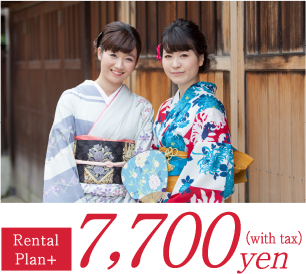 Rental Process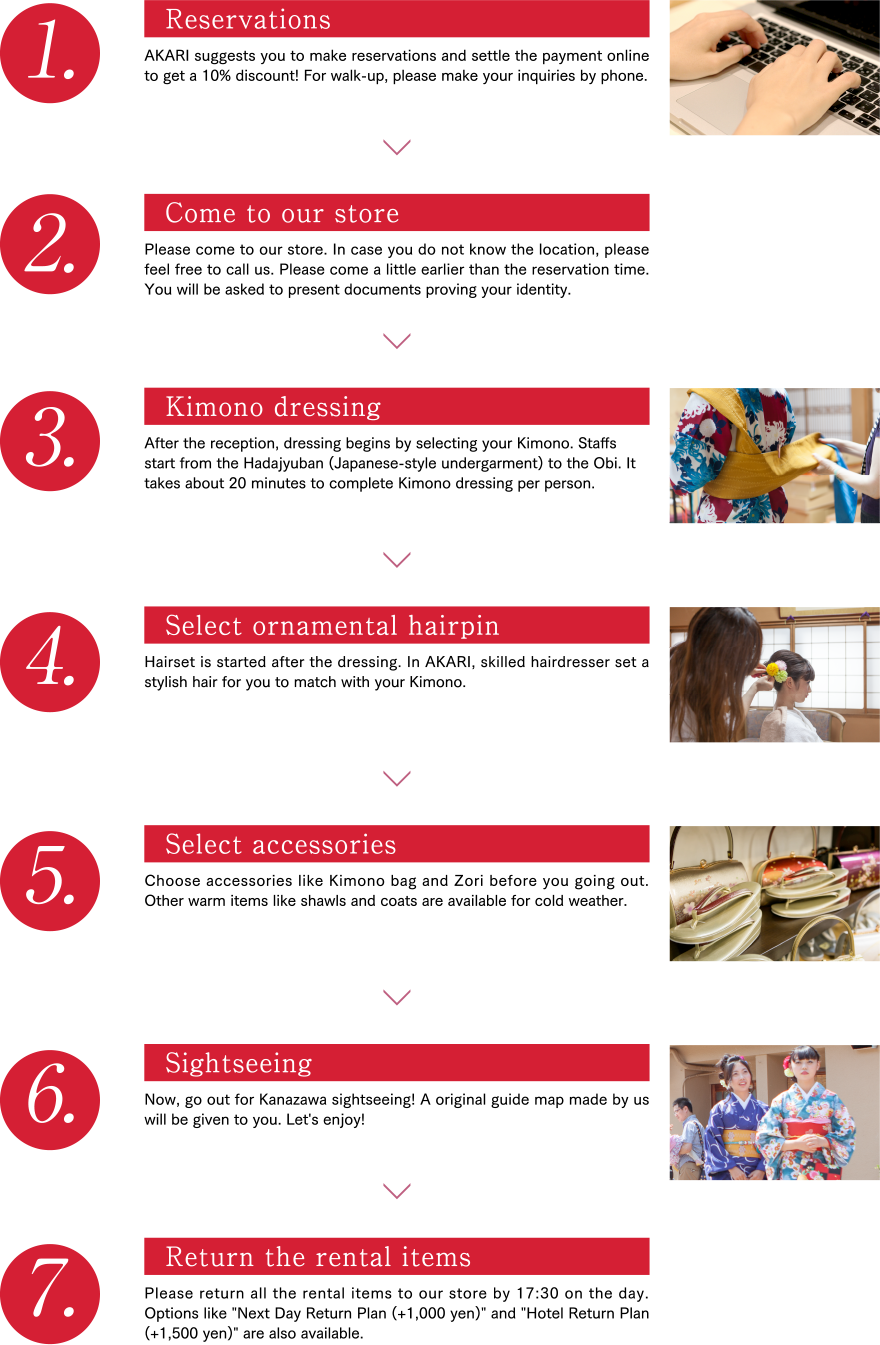 Next Day Return Plan (until 14:00 on the next day) +1,100 yenGreat plan for enjoying night spots in Kanazawa. You can return the rental items by 14:00 the next day.
By returning the rental items the next day, fully enjoy the beautiful night time in Kanazawa with your Kimono dress-up.
* You only need to return the rental items to our store by 14:00 the next day.
Hotel Return Plan (until 12:00 on the next day) +1,650 yenConvenient plan for returning the rental Kimono at you accommodation. Your luggage will be delivered to your accommodation that day.
This is a plan which you can wear your Kimono back to your accommodation. Your luggage will be sent to your accommodation by 17:30 that day. A bag provided by AKARI for returing will be placed at the front desk, please put all the rental items in the bag, and take it to the front desk by the time of check out. This plan is limited to accommodations in Kanazawa City.
* Some accommodations in Kanazawa City may not be available, so please feel free to contact us for details.
Notes on Use
Return Policy
Under no circumstances should return all the rental items withn one week, or in case of loss, we will claim 22,000 yen as a compensation fee. (500,000 yen or less in case of Kaga Yuzen). You have to return all the rental items before the closing time of the store, otherwise a late fee of 2,200 yen (until 12:00 on the next day) will be charged separately.
Regarding loss, dirt, damaged items and cleaning
Cleaning fee is included in Kimono rental fee. You no need to care about the dirt (food stains or muddy splash etc.) on the rental items in normal use. However, in case of oil-based paint stains or damages (burn marks, be torn or perforated etc.), we will claim the following amount as a compensation fee. Please inform our staffs when returning.
Kimoto and other items
Komon (for rental)
13,200 yen uniform
Nagoya Obi & Fukuro Nagoya Obi
11,000 yen uniform
Half-width Obi
3,300 yen uniform
Obijime & Sambuhimo
3,300 yen uniform
Zori
4,400 yen uniform
Geta
1,100 yen uniform
Accessories and other small articles
Garment worn under kimono (Nagajuban)
5,500 yen uniform
Undergarment (Hadajuban)
1,100 yen uniform
Waist-cord
220 yen per one
Datejime
550 yen per one
Korin Belt
550 yen per one
Obiita
550 yen per one
Obimakura
550 yen per one
Luggage Storage
Luggage storage service is provided. Leaving all your bags at our store and give yourself a free hand for the trip! Never leave valuable items at the store.
Cancellation Policy
Please let us know the cancellation one day before the appointment day. We do not charge you the cancellation fee.
Reservations
Please note that the Kimono dressing time may be delayed if you are late.
Access
AKARI is well located, and easy to walk around Kanazawa City with various sights in one day.
Kimono Rental of Omicho Ichiba Akari
49 Shimomatsubara-cho, Kanazawa-shi, Ishikawa, Japan
Tel: +81-(0)76-201-8119